Excellence In Training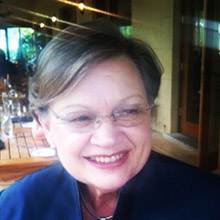 Co-founder and a Director of The Australian Institute of Counselling in Addictions since 1987, June holds graduate diploma qualifications in the field of chemical and behaviour addictions and is a Gestalt Psychotherapist. Widely experienced as a psychotherapist, counsellor, interventionist, clinical supervisor, teacher, trainer and consultant, she has designed, implemented and evaluated training programs for the private and government sectors. As senior lecturer and trainer at AICA, June trained hundreds of counsellors as addiction specialists and is the Master Trainer nationally for the USA originated and internationally applied program, Life Management – Relapse Prevention & Building Health Relationships.
Accredited in Myers Briggs Psychological Type Theory, June has also presented workshops in personality theory within the corporate sector and Australian Armed Services. Constantly looking for new challenges, June trained in USA gaining new insight from world leader, Professor Dr. Edgar Schein, in process consultancy and corporate culture.
Her work with health professionals as a clinical supervisor for the past 23 years is supported by a strong background in substance abuse counselling and psychotherapy. Industry reputation in this area of work has resulted in all clinical supervision contracts being awarded by invitation. She is a Registered Clinical Member of CAPA and PACFA.
With 17 years experience in structured interventions and systemic family workshops, June has worked successfully with corporate companies, organisations and families in this specialised arena. In 2002 she established LakeScope Consulting to further this work. Today, June Lake and the LakeScope team of consultants and advisors apply the most recent research in interventions and offer Family Systemic Interventions, intervention by invitation. Involving family, friends and co-workers, this new model of intervention includes a process of reconstructing relationships that have inadvertently allowed, and sometimes even encouraged, the chemically or process dependent person to continue his/her behaviour. June believes in the power of love when working with families and sees miracles occur when whole families experience recovery from the painful and destructive patterns of addiction.
June's expertise in counselling theory and facilitation of group processes allow her to work and demonstrate a unique ability with deepened awareness and sensitivity towards change and growth in clients. An engaging communicator with gifted insights and a commitment to achieving practical results in her work she is recognised as a leader in this field.
June Lake
Registered Clinical Member CAPA
Registered Clinical Member PACFA
---
Level 34, AMP Tower, 50 Bridge Street, Circular Quay, Sydney 2000 - Phone: 02 8216 0739
Offices in Sydney, Adelaide, Canberra, Gold Coast and Southern Highlands
Group Training offered in most Australian States
Personal and Professional Development Groups available in Sydney, Adelaide, Sunshine Coast, Gold Coast
Mobile: 0412 49 44 79